CYBEL PROTEUS-1064 fiber laser : module and benchtop
The CYBEL PROTEUS-1064 series is a line of fiber lasers that operate in either CW or pulsed modes. With a 25 GHz line broadening modulation, this laser delivers 1 W output in a CW mode or 5 kW peak power with 2.5 ns pulse width at 100 kHz frequency repetition rate. Other pulsewidth and frequency ranges are possible. This versatile module is available at several operating wavelengths from 1030 to 1090 nm. The CYBEL PROTEUS-1064 is available as module or as a benchtop instrument, in SM and PM version.
The PROTEUS-1064 laser module is housed in a compact OEM package ( 2 00 x 150 x 43 mm3 ). Its output power tuning and monitoring of key operating parameters are achieved via an USB port.
| | MIN | TYP | MAX | UNIT |
| --- | --- | --- | --- | --- |
| Center Wavelength | - | 1030 / 1050 / 1064 / 1090 | - | nm |
| Output power (CW) | - | 1 | - | W |
| Output peak power (@ 100 kHz) | - | 5 | - | kW |
| Output Energy / Pulse (@100 kHz , 2.5 ns) | - | 10 | | uJ |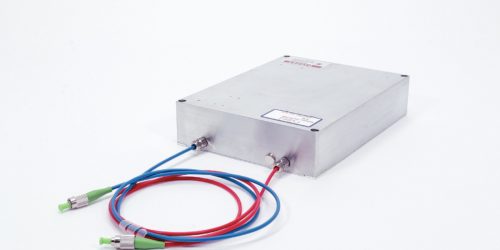 + 33-(0)685-220-115 / info@morephotonics.com