CYBEL VULCAN-1064 fiber laser : module and benchtop
The CYBEL VULCAN-1064 series is a line of high power CW fiber lasers at 1064nm. The VULCAN-1064 comes with an output averaged power from 5 to 20W with a random or linear polarization and a single mode high beam quality, M2<1.1. This laser is designed for industrial as well as R&D applications and is available as an OEM module or as a benchtop instrument.
The VULCAN-1064 laser module comes in an OEM package ( 200 x 150 x 43 mm3) with either a standard or a PM fiber. Both the output power and key operating parameters are controlled from a RS 232 computer interface.
| | MIN | TYP | MAX | UNIT |
| --- | --- | --- | --- | --- |
| Center Wavelength | - | 1064 | - | nm |
| Output power (CW) | - | 5 to 20 | - | W |
| OSNR (@ 5 W) | - | 50 | - | dB |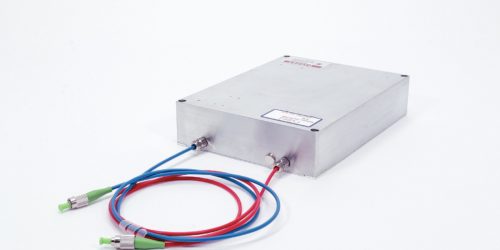 + 33-(0)685-220-115 / info@morephotonics.com