CYBEL MAKO-AMP-1550 fiber amplifier : compact module and benchtop
The CYBEL MAKO-AMP-1550 is a fiber amplifier for use with wavelengths between 1535 and 1550nm. The amplifier provides high small signal gain (>40 dB) and an output power of over 1 W. The amplifier output has a near-Gaussian profile (M2 ≃1 ). The CYBEL MAKO-AMP-1550 is available as a super compact module and benchtop instrument, in SM and PM versions.
The MAKO-AMP output power is adjustable through a simple digital interface (module version) and through the front panel of the benchtop instrument.
The MAKO-AMP module is an efficient, ultra-compact (91 x 66 x 15 mm3 ) and ultra-light, all-fiber OEM unit specifically designed for applications requiring small footprint.
| | MIN | TYP | MAX | UNIT |
| --- | --- | --- | --- | --- |
| Wavelength | 1535 | | 1550 | nm |
| Small signal gain (@ -10 dBm in) | 40 | | | dB |
| Output power (@ 0 dBm in) | 30 | | | dBm |
| Power tunability | 0 | | 100 | % |
| ASE level (@ 1 W output) | | | 1 | % |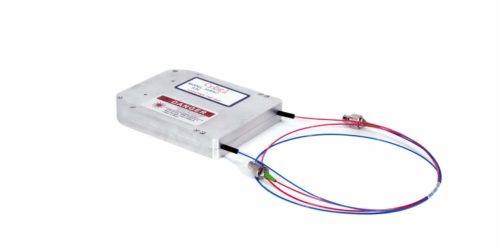 + 33-(0)685 -220-115 / info@morephotonics.com