CYBEL SKYLIGHT-1550 fiber laser module
The CYBEL SKYLIGHT is a 1550 nm eye safe pulsed fiber laser that delivers short pulses (2-8 ns) over a wide range of repetition rates (200 kHz-1.5 MHz ) with high pulse energy (up to 40uJ).
The SKYLIGHT comes in either a 5W or 10W average power config ration with up to 10kW of peak power in a near-Gaussian beam (M2< 1.3 ).
Output power and monitoring of key operating parameters are controlled from either an RS232 or USB port while the pulses are triggered by either an external TTL input signal or through internal software control.
The SKYLINE is an efficient and compact all-fiber OEM unit specifi- cally designed for airborne or ground sensing applications.
| | MIN | TYP | MAX | UNIT |
| --- | --- | --- | --- | --- |
| Center Wavelength | 1540 | 1550 | 1600 | nm |
| Output power CW | | 15 | | W |
| Linewidth | | 0.1 | | nm |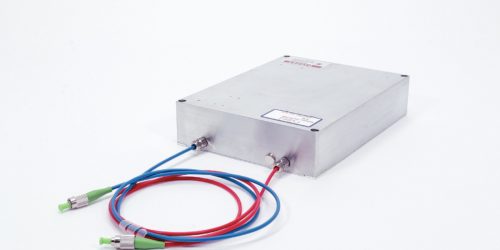 + 33-(0)685 -220-115 / info@morephotonics.com