CYBEL MISTRAL-2051 fiber amplifier : module and benchtop
The CYBEL MISTRAL-2051 is a line of thulium-doped fiber amplifiers designed for amplification of eye-safe light in the wavelength range 2045 to 2055 nm. MISTRAL-2051 is specifically designed for operation around the important CO2 absorption line near 2051 nm. The amplifier can provide from 1 to 5 W of single transverse mode output power for a 1 mW, single frequency input at 2051 nm.
The MISTRAL-2051 fiber amplifier is available as a module or a 19″ instrument, either with a standard or  a polarization maintaining fiber. Output power and monitoring of key operating parameters such as, automatic current control (ACC) and automatic power control (APC) modes are controlled from either an RS232 or USB port (module) or from the front panel keyboard (benchtop).
| | MIN | TYP | MAX | UNIT |
| --- | --- | --- | --- | --- |
| Wavelength | 2045 | 2051 | 2055 | nm |
| Input signal power | | 1 | | mW |
| Input signal linewidth | | | 3 | MHz |
| Output power (@ 0 dBm in) | | 30 / 33 / 37 | | dBm |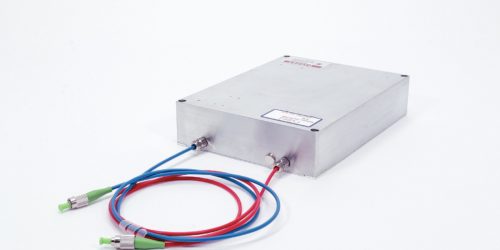 + 33-(0)685 -220-115 / info@morephotonics.com