CYBEL MIR-ASE-1800 / 1900 / 2000 Broadband Sources
The CYBEL MIR-ASE are mid-infrared broadband light sources. These amplified stimulated emission (ASE) sources exhibit excellent power stability, low temporal coherence and a high spatial coherence. These combined features are ideal for applications ranging from optical component testing, gas analysis to OCT.
The MIR-ASE broadband sources come in an OEM module (200 x 150 x 43 mm3) or a 19" turnkey rack mountable benchtop version with either a random or linear polarized output signal. The unit  delivers up to 500 mW of power with a 20 dB band of 160 nm.
The MIR-ASE can be designed to have their centered emission wavelength selected from 1800 nm to 2100 nm. The output power is scalable to Watt level with an optical isolator.
| | MIN | TYP | MAX | UNIT |
| --- | --- | --- | --- | --- |
| Center wavelength NIR-ASE-1800 | | 1830 | | nm |
| Center wavelength NIR-ASE-1900 | | 1830 | | nm |
| Center wavelength NIR-ASE-2000 | | 1830 | | nm |
| Spectral bandwidth | | 140 | | nm |
| Output power | | 0.5 | | W |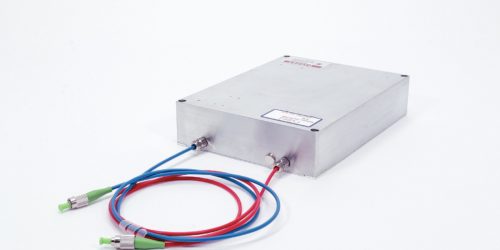 + 33-(0)685-220-115 / info@morephotonics.com